Queside makes a new level of modern cleaning
      From March 30, 2021 to April 2, 2021, in Shanghai New International Expo Center, as a professional manufacturer of floor scrubber machine, Queside and its excellent products appear in 2021 Shanghai International Clean Technology and Equipment Expo, bringing consumers a new cognition with clean as the theme, and displaying the application scenarios and functional characteristics of each type of floor washing machine in detail.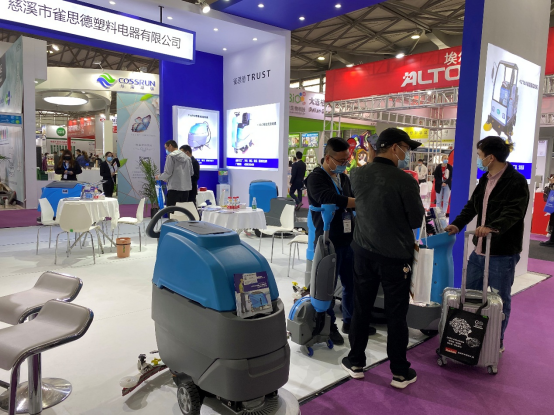 QUESIDE Booth No.: N2E09
1. Strive to let more customers enjoy the real convenient cleaning service, comprehensive application of each scene

The development of the new era and the leapfrog progress of scientific & technological life make people's requirements for cleaning also improve. For different cleaning needs in different scenes, Queside provides users with a great new solution implementation tool.
(1) Efficient implementation of solutions in large commercial places

For the public cleaning area of large commercial premises, Queside has a unique tool to implement the response: Hand-push washing machine, self-propelled washing machine, driving washing machine and other professional cleaning "expert", can achieve outstanding cleaning effect at the same time to achieve efficient working level, and the speed is fast, easy to manage, can wash more than 3,000 square meters per hour, the efficiency is more than 10 times the manpower, save time and effort, effectively save labor costs. High-level business buildings can also be easily solved, the floor washing car can freely enter the elevator, greatly reducing the difficulty of cleaning, to achieve flexible working in multiple areas. Applicable to large shopping malls, office buildings, hotels, supermarkets and other areas.
(2) Industrial places can also easily achieve deep cleaning

Industrial places because of their different ground materials, to clean the degree of difficulty, but the Queside could easily face and handle. Model 860 driving type floor washing machine equipped with a 900mm diameter widened double brush disc, wear-resistant and efficient, no residual pollution absorption, high cleaning efficiency, the use of replaceable brush disc, can adapt to a variety of environments, especially for epoxy floor, PVC floor, terrazzo floor, wear-resistant floor, tiles, fixed cement floor, rubber and other surface. Oil stains, dust, particles, water stains can be easily cleaned. This is attributed to the strong copper motor used by our machine. The all-copper motor has high electromagnetic energy conversion, strong explosive force, wear-resisting, durable, stable operation, reasonable heat dissipation design to keep the motor power fast heat dissipation, and the high current power off protection motor starts the automatic over-current protection system. With 1080mm widening corrosion resistant water suction, the cleaning efficiency is more than doubled than other competitor, water absorption effect is good, clean and no residue, easily realize the deep cleaning of dirty environment. Applicable to industrial production, warehousing and logistics, civil engineering, medical services and other areas.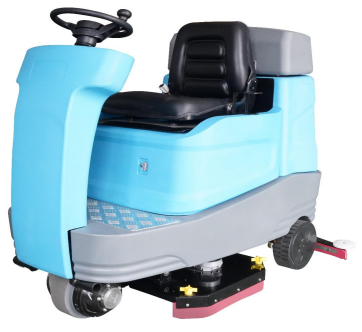 2. Stable quality, make a new level of modern cleaning

Now, with the progress of science & technology, cleaning industry is from the traditional manual cleaning mode to large-scale modern machine cleaning mode, in high efficiency to complete high-intensity work at the same time, to achieve effective labor saving and cost management.  The change of this direction means that in the future, people will deal with the dirty problem in a more convenient and modern way of cleaning. At present, many high-tech enterprises are committed to research and development and production of cleaning equipment, so how can Queside occupy a place in the fierce competition?

The answer is: solid quality

Product quality is the guarantee of enterprise survival and development, is the lifeline of market development, is the main factor of customer satisfaction.  Quality management is the protection umbrella of the company's brand. Strictly quality management can improve the brand's reputation.  Strengthening quality management is also a necessary measure to safeguard people's lives and physical and mental health.  Poor product quality will lead to a decline in corporate reputation, a reduction in market share, an increase in external losses and a decline in customer satisfaction.  At present, the enterprise quality culture construction is the development trend of modern quality management theory and practice, and is a high level of quality management tactics and strategy, more enterprises to carry out the internal integration, the effective ways to create a win-win situation, so must be nurtured and construction of the unique enterprise culture of quality, to promote the enterprise whole quality and constantly improve the quality management level.
Queside floor scrubber machine has always adhered to the business philosophy of "honesty oriented", as always, persistent.  The company has a set of rigorous quality production system = professional R & D team + efficient advanced production line + quality control system
Professional R & D team:

the company is developing in the direction of diversification, introducing excellent talents and cultivating excellent employees. Within two years, five senior engineers and technical talents have been introduced, and managerial and technical talents account for 20% of the company's total number.

High efficiency advanced production line:

the company has plastic, model workshop, auto parts production workshop, part of the workshop all adopted the advanced equipment at home and abroad, the implementation of automatic unmanned operation management mode.
Quality control system:

the company specially set precision equipment quality control point, equipped with motor comprehensive tester, salt spray test box, vibration tester and other equipment. All the staff is in line with the quality policy of "excellent quality, continuous improvement, build famous brand, the pursuit of excellence", to ensure that the first pass rate in product quality is above 98%, customer satisfaction is above 96%. And the company has passed the IS09001:2000 quality management system in 2003, in order to further serve customers, fully improve the enterprise management, the company all staff participation, in August 2007 passed the QS certification. In July 2011, we passed the TS16949 quality management system certification.