Floor washing machines can be seen in the parking lots of major shopping malls or residential parking garages. Due to the large traffic flow, heavy sand and dust in the parking lot, it takes a lot of money to keep the ground clean all the time. The manpower, material resources and financial resources are invested in, and the washing machine is a three-in-one cleaning device, which can sweep the floor, wipe the floor and absorb the water stains on the floor at one time, so that it is clean and dry, and it is not easy to be used twice. contamination, so it can easily replace most of the manual cleaning.
The use of the floor washing machine in the parking lot is very frequent. It is possible to see the use of the floor washing machine in the morning, noon and evening. As the floor washing machine is used frequently and for a long time, some friends have encountered the problem that the floor washing machine does not absorb water. What should we do then?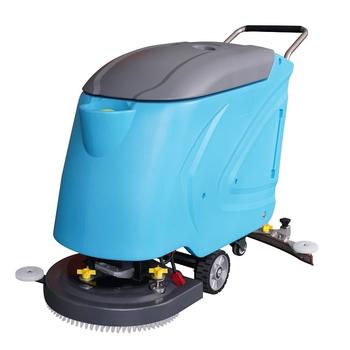 First of all, we need to understand the reasons why the washing machine does not absorb water. The reasons we can solve by ourselves are as follows:
1. The wear of the absorbent strip, the solution: replace the absorbent strip of the washing machine.
2. If the suction pipe is damaged, it will be unable to absorb water, resulting in the inability to absorb water. The solution is to replace the suction pipe.
3. The adjustment of the squeegee is not good. Under normal circumstances, the sales staff will adjust various accessories such as the squeegee. The cleaning staff can perform the cleaning work with simple operations, but sometimes due to the lack of cleaning staff or operators. Be careful, it will cause the squeegee adjustment to be out of balance, the solution: readjust the squeegee.
We can solve the above three reasons by ourselves, so as not to delay a lot of time to affect our cleaning work, but there is another reason why the washing machine does not absorb water, that is, the problem of the water absorption motor. At this time, we need to contact a professional washing machine. The after-sales personnel of the machine let it carry out door-to-door maintenance.