Both corded and battery operated scrubbers offer the same great cleaning functionality.
Corded electric scrubbers are usually 20" or under. Their benefits include unlimited run time and require less maintenance. They are also economical and lighter in weight allowing easier transport than heavier battery powered machines. The downside to the electric scrubber can be the cord itself. The operator will have to work around the cord and have electrical outlets every 50 feet or so. On the upside, there is no stopping to charge the batteries.
Battery scrubbers are more maneuverable with no time spent looking for electrical outlets and moving cords. Most new small scrubbers come with maintenance-free batteries with onboard chargers. This makes charging very convenient as any outlet can charge it up. In addition, maintenance-free batteries are sealed so there is no need to check electrolyte levels and add distilled water periodically. The initial investment is a little more expensive, but many of our customers end up liking the smaller battery scrubbers better than the corded versions.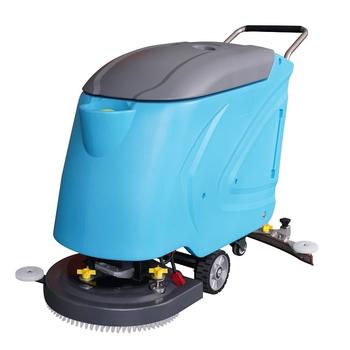 As a professional China industrial
floor scrubbers manufacturers
and commercial floor scrubbers machine suppliers, Being Founded in 1995, located in the industrial base of plastic products and home appliances in China-- Ningbo CIXI Zhouxiang Town, with an area of 13,000 square meters, Cixi Queside Plastic Electrical Appliance Co., Ltd, is firmly dedicated to the design, R&D, and manufacturing of middle and high-end commercial floor scrubbers machine and related auxiliary products.