When shopping for a floor scrubber you may be trying to decide if you need a rider or walk-behind scrubber. Here are some things to consider. First of all what is your space like? Is it wide open floor or does it have a lot of things to maneuver around? A larger warehouse with pallet racking and very few obstructions to go around would be great for a rider. Arenas, airplane hangers, large warehouses are all great places where a rider is a good idea. Larger retail and box stores can also be good places for riders. Riders are more productive and reduce operator fatigue.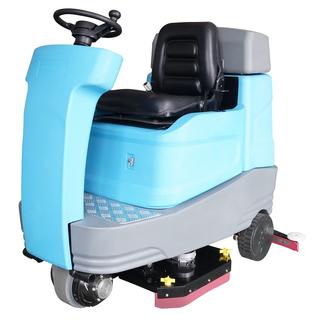 However if your space is on the medium to smaller side and you have narrow isles and lots of things to go around, a walk behind would be a better choice.
When you are looking at buying a floor scrubber you may be asked if you need brushes or pad drivers on your scrubber. And you may not even know what a pad driver is. Let's start with the brush. Brushes come in a variety of different grits and materials. Usually gritty or stiffer brushes work great on concrete in your warehouse or shop floor. But if you have a nice epoxy or polished-concrete floor you would want to go with a softer brush or pad driver.
A pad driver has short stiff bristles or a velcro-type material had holds a floor cleaning pad on it. Notice in the picture the green pad on this scrubber. These pads come in different colors from soft white to course brown or black. These are mainly used on VCT or (Vinyl composition tile) flooring. You see these a lot in grocery stores and other large retail facility floors that have wax or floor finish on them to make the floor shiny. Soft red or white pads clean the floor and do not scratch or remove the floor finish.
If you have a really nice polished-concrete or a waxed floor you might consider a pad driver. However, a really soft nylon brush can be very effective and eliminate the need to change pads. If you have any questions feel free to contact us:
web: https://www.scrubbermachine.net/
Add: No 1068, Zhouxi Road, Zhouxiang Town, Cixi City, Zhejiang province.
Tel: 86-13757464108
E-mail: xsb1@queside.com