Floor scrubbers are now applied to all walks of life. They can be seen in docks, airports, parking lots, railway stations, and even in factories, warehouses, warehouses, workshops, hotels, restaurants...
Therefore, many floors can be applied to its work, such as epoxy floors, PVC floors, terrazzo floors, wear-resistant floors, ceramic tiles, small square bricks, cement floors, wooden floors, rubber floors...Of course, as indoor floors, like ceramic tiles Floor scrubbers are also more common. There are gaps in the tiles. Can the floor scrubber really be used on the tiled floor?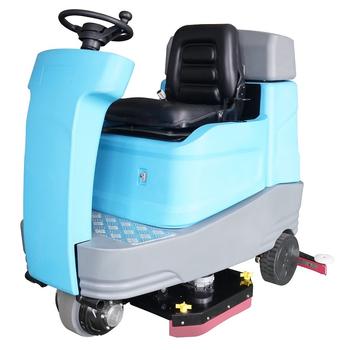 1. Since the floors with brick cracks are mostly hard floors, the scrubber needs to be equipped with a general hardness roller brush, scouring pad and neutral detergent when cleaning, so that the scrubber can be cleaned quickly Dirt can protect the ground from damage.
2. If the ground with brick joints is only flat and the brick joints are larger, then you should use soft absorbent tape. After the floor scrubber is cleaned, it can be driven slowly when cleaning and absorbing water to achieve better Water absorption effect.
3. If the ground is flat and has a certain degree of friction, the scrubber should be equipped with wear-resistant absorbent strips, which can prevent damage to the squeegee and improve the cleaning effect. The scrubber can also be based on the dirty ground Adjust the pressure of the brush appropriately if it is dirty.
4. In the process of cleaning the floor with brick joints by the scrubber, if there is oil stains, you can use a strong carburetor according to the situation, and the pressure of the scrubber brush can be appropriately increased within the range of the ground, so as to obtain more Good cleaning effect.
https://www.scrubbermachine.net/