Driving-type scrubbers have been widely used, and they can be seen in workshops, stations, squares, garages, and large shopping malls. Generally speaking, the property management in these places is outsourced to the property company. Cleaning is a very important item in all matters of the property company. The purchase and selection of the washing machine is very important. So what factors should the cleaning property company consider when purchasing a driving scrubber?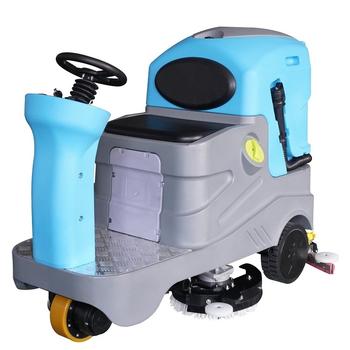 First, cleaning area: the applicable area of ​​driving-type scrubber is 20,000 square meters, if the area is less than 10,000 square meters, it is not recommended to purchase driving-type scrubber. The hand-push scrubber can meet the requirements of use.
Second, the procurement budget: The price of a driving scrubber is generally 3-5 times that of a hand-push scrubber. For Nanning property companies with sufficient budget, the cleaning efficiency of the driving scrubber is higher, obviously. A better choice. But if the budget is insufficient, a hand-push scrubber is also a good alternative.
Third, the site environment: whether the flatness of the ground is suitable for the use of scrubbers, for underground garages, we must also consider the climbing degree of the driving scrubber, whether there are freight elevators between different floors, and so on.
Fourth, the cost and efficiency of after-sales: This should be the most concerned issue of the property company outside of the price, whether the price of the driving scrubber's spare parts is within the acceptable range, whether the after-sales response is timely, whether it can provide door-to-door service, etc. Wait.
https://www.scrubbermachine.net/