Floor scrubbers can bring great benefits because they can clean and dry floors without the operator having to make any effort. They can use high-speed motors to scrub and suck out unwanted waste and debris from various floor types to work on large and small surfaces.
If you may need to use a mop and bucket or even scrub by hand to remove floor stains, after five or more times on an area, a floor scrubber can remove stubborn stains at once without contaminating the clean with dirty waste water.
The scrubber can be used on a variety of surface areas, including concrete, wood, tile, and stone. The suction part of the scrubber sucks dust and waste and distributes them to the waste disposal box. In order to get a deeper scrub, you can dispense the cleaning solution through the scrubber, then apply it to the floor under agitation, and then collect it, leaving a clean and dry floor.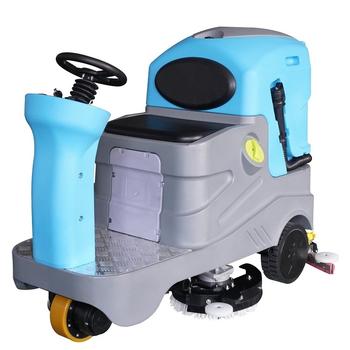 The scrubber can be used in various businesses and organizations. The following is a list of how different users can benefit from the scrubber:
Retail store. The scrubber is ideal for large and small retail stores or shops. Retail stores generally tend to areas with high traffic, which can lead to dirty, messy and overflowing floors, as well as accidents. Hand-push floor scrubbers or multifunctional compact scrubbers are ideal for cleaning up these spills and usually maintain the floor regularly. These machines are great for entering smaller areas and aisles, while ride-on machines can be used in retail stores with larger aisles and areas that require cleaning.
Medical and healthcare facilities. Any facility or business related to medicine, health and well-being needs to maintain the highest hygiene standards, including keeping the floor spotless. For large facilities such as hospitals, the riding scrubber is an ideal choice because it can perform cleaning tasks quickly and efficiently. Sometimes, when the flow of people is low, the cleaning work needs to be completed in a short time, so in large-area cleaning, it is essential to use a larger scrubber.
Schools and offices. Most schools and offices have more than one type of floor. A school gymnasium may have wooden or rubber floors, a store has concrete floors, a corridor has tiles, and a music room may have vinyl. The right scrubber can treat all these surfaces in a single cleaning process. Having one machine to complete all these cleaning tasks does not require the use of many different cleaning machines. This can eliminate additional storage space, not to mention the initial investment.
https://www.scrubbermachine.net/