Hospitals have a peak demand for hand-push scrubbers. Hospitals, health centers, and medical institutions, as places with large crowds and high hygiene requirements, need to use hand-push scrubbers and ride-on scrubbers to escort the hospital environment. , the crowd is dense, and the bacteria are extended. In order to avoid cross-infection, the hospital has very high requirements for the cleanliness of the environment. The traditional manual cleaning efficiency is low, and it is easy to form a secondary purification due to the dense flow of people. All need new cleaning equipment scrubbers to assist in cleaning.
The hospital hand-push scrubber is easy to operate. The hospital hand-push scrubber literally means the artificially implemented scrubber. Some people will think, is it easy to push such a large scrubber by hand? Can the hospital clean it? , but in fact, the hand-push scrubber in the hospital has its own automatic walking function, so it is effortless to operate. In the special environment of the hospital, it is necessary to use the kind of washing machine to meet the environment of the hospital. Today, the editor will summarize: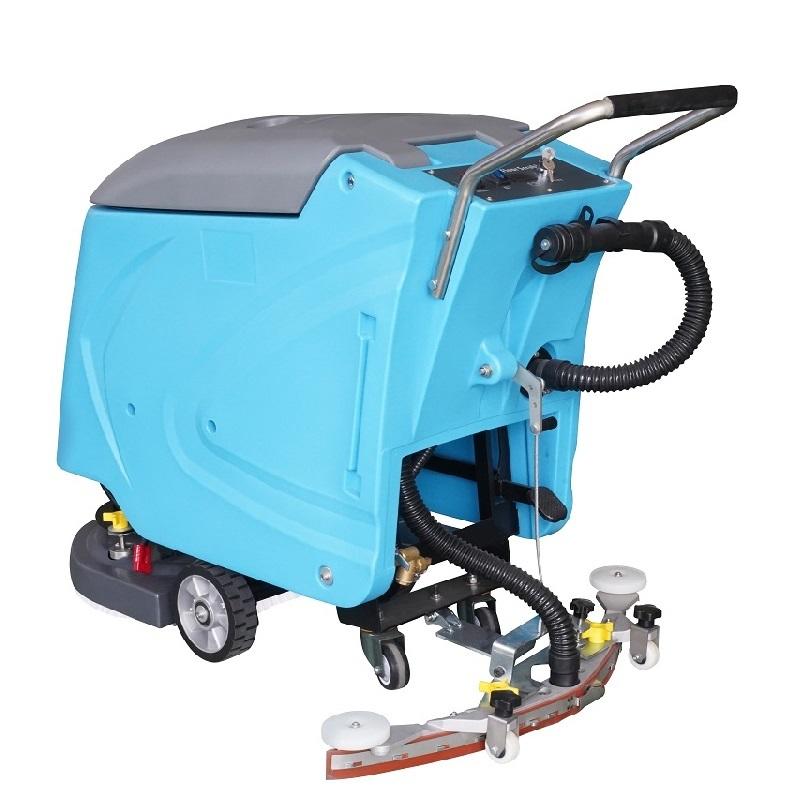 1. People come and go in the hospital, and the charging port cannot be determined. To keep the hospital clean at all times, the hospital hand-push scrubber needs to have a certain battery life.
2. There are many patients in the hospital who need to be carefully recuperated. Therefore, the noise of the hand-push scrubber in the hospital is effective, so that the colleagues who clean the floor will not affect the normal rest of the patient, especially the inpatient department has higher requirements for the quietness of the scrubber. .
3. Due to the large number of people in medical-related places such as hospitals, health centers, beauty institutions, etc., it is recommended to use the hand-push washing machine in the hospital, which has stronger controllability, which can meet the daily ground cleaning and ensure the safety of pedestrians and patients. Clean the ground and keep the ground dry, and then the hospital can better reflect the advantages of the hand-push scrubber. If the manual mopping operation is completed, the ground will be slippery and slippery. The image of the hospital will also have a negative impact. affected.
        When choosing a floor scrubber, all hospital sites consider the width of the aisle and the convenience and safety of operation. In addition, hospitals with exquisite fuselage are required to use silent hand-push floor scrubbers. The super suction power ensures that water does not leak after cleaning and eliminates potential safety hazards. It has a mute design to prevent hospital music from affecting the patient's rest. It can be seen that the hospital washing machine has also ushered in his demand peak.