Due to the rapid economic development, there are more and more families owning private cars. Therefore, whether it is the parking lot of a residential area or a parking lot of a commercial office building, the pressure on its cleaning is also increasing, and the area of ​​the parking lot is increasing. The larger the traffic volume, the more troublesome it will be to clean. If the property or cleaning company uses traditional manual cleaning, it needs to invest more manpower and material resources. If modern cleaning tools are used to sweep the floor The opportunity will reduce a large amount of cleaning costs and expenses for the enterprise.
Today, let's talk about why the underground parking lot should use a sweeper. First, let's talk about the major problems faced by the cleaning of the underground parking lot: the parking lot is generally large and relatively closed, the manual cleaning efficiency is low, and the dust is flying; Vehicles come in and out frequently, and cleaning is difficult; the environment in the underground parking lot is dim and the ventilation is poor, and staying in the parking lot for a long time will also have a certain impact on the cleaning staff.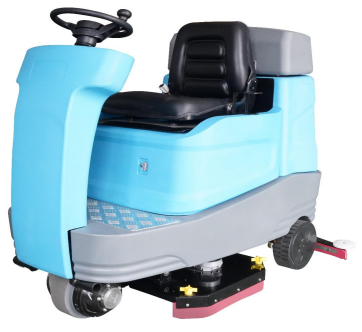 Underground car parks generally use ordinary cement floors, emery wear-resistant floors, and epoxy resin paint floors. Vehicles come in and out, and a large amount of man-made garbage and sand brought in by cars make the environment of the underground garage unfriendly.
1. The cleaning effect of the sweeper is excellent
Nowadays, sweepers are widely used in parking lots to efficiently clean the dust and garbage inside and outside the parking lot, so that the cleaning work is not difficult and easy.
2. The sweeper maintains the image of the parking lot
The parking lot sweeper integrates sweeping and water absorption, which greatly reduces the labor intensity of cleaning workers internally, and can enhance the overall image of the parking lot, cleaning company and property management company externally.
3. The sweeper has high cleaning efficiency and a large range
It greatly saves the employment cost, management cost and cleaning cost of the cleaning company or property company.
4. The environment of the sweeper is comfortable and green
The parking lot sweeper has the function of vacuuming, which can effectively suppress dust. The closed space formed by the independent baffle can effectively prevent the leakage of dust, avoid secondary air pollution, and be more friendly to the garage environment. Humanized operation panel design, simple operation, easy to drive without a driver's license, use battery charging, no exhaust emissions, green energy saving and environmental protection.
Using sweepers to clean underground garages can greatly reduce cleaning time, improve work efficiency and reduce corporate cleaning costs. It is beneficial to both companies and cleaners. Therefore, sweepers are gradually being used in more and more occasions. Instead of manual cleaning.