Land reclamation and cleaning is a relatively troublesome job. It is more common in large factories, workshops, newly built shopping malls, supermarkets, etc. After the decoration is completed, all kinds of garbage, cement, stones and other garbage on the ground are used. The land reclamation work is very heavy. We have to resort to some cleaning tools. Land reclamation cleaning can be used with sweepers, driving floor scrubbers, industrial vacuum cleaners, marble floor grinders, etc., which is the main development trend of cleaning the ground in the future. The land reclamation cleaning machine can help enterprises quickly and efficiently To complete the cleaning task, what are the advantages of cleaning tools such as washing machines and sweepers for cleaning companies?
1. The traditional cleaning is only done by simply mopping the bucket with a rag, and the cleaning effect is difficult to achieve an ideal state. The complex cleaning environment and cleaning problems need to be solved by scientific and systematic methods, so as to make the cleaning work simple. For the cleaning workers, it is a pleasant thing to make the cleaning work simple.
2. The function of the scrubber for wasteland cleaning and cleaning integrates water spraying, ground scrubbing, and sewage recycling to meet the needs of different cleaning environments. One machine is equivalent to the workload of 6-8 people, and can complete large-scale work in a short time. The area of ​​the ground is cleaned, saving labor costs.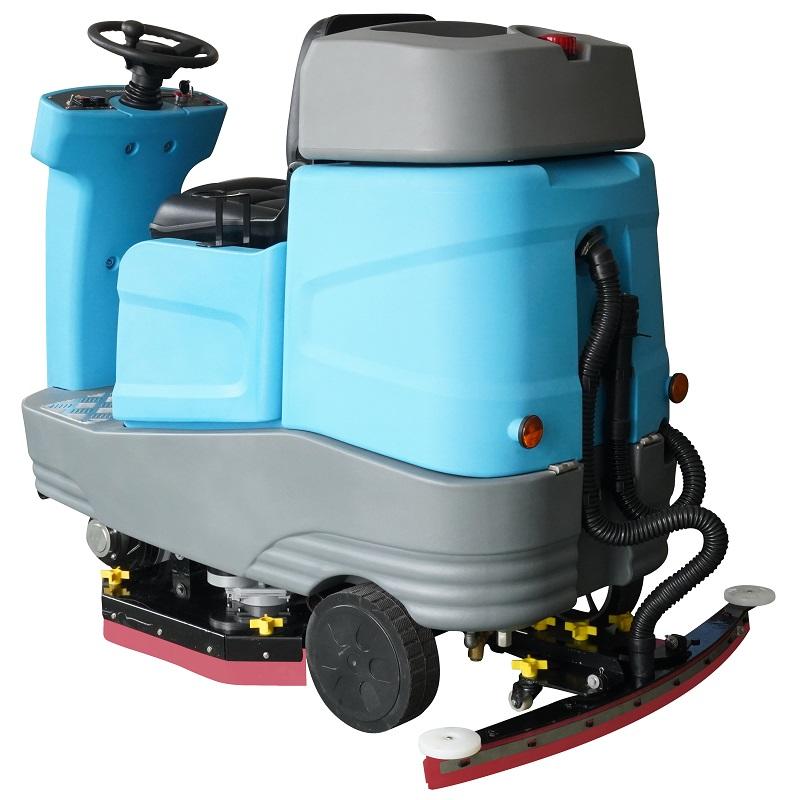 Scrubbers can also be used for land reclamation and cleaning, and sweepers can also be used. How to judge whether to use a sweeper or a sweeper?
    When there are cement, scraps of paper, sand, stones, decoration waste, etc. on the ground, you can use a sweeper. At this time, a sweeper is required to collect and clean up the garbage. At this time, you need to pay attention that the sweeper intelligently removes the garbage and dust on the ground. Cleaning can not clean the remaining stains on the ground, so in this case, a washing machine is needed to deeply clean the ground. When choosing the type of sweeper, you can choose a walk-behind sweeper or a ride-on sweeper according to the site area, the amount of garbage, and the size of the site.
When choosing a washing machine, you need to choose according to the degree of stains on the ground and the size of the local area. There are many stains on the ground, and the pressure needs to be adjusted to complete the cleaning. Generally, the driving type washing machine is more efficient. A scrubber also gets the job done.