Small driving floor washing machine is a cleaning equipment machine that can wash, mop and dry at the same time. It is widely used in stations, docks, airports, factory workshops, warehouses, schools, hospitals, restaurants, shopping malls, warehouses and other places with broad hard floors. There are many brands of floor washing machines on the market. How to operate them.
How to operate the driving floor washer
1. Add water, open the cover of the clean water tank, add clean water to the clean water tank, and add an appropriate amount of detergent. The addition ratio can be determined according to the turbidity of the clean environment. Generally speaking, it is 1:5-10, and the cover of the water tank should be tight. Note: it is strictly forbidden to pour washing powder, high foam detergent and detergent into the water tank. The generated foam will burn the machine (if it is a high foam detergent, be sure to add defoamer into the sewage tank)!
2. Equipment operation: turn on the key switch, gently step on the pedal of the brush plate, put down the brush plate, put down the suction grill, press the brush plate and the suction switch, adjust the size of the water supply according to the degree of oil contamination on the ground, press the handle control ring, and adjust the speed of the floor washer (the small driving floor washer can step on the accelerator pedal when moving, and release the accelerator pedal when stopping, which is simple to operate).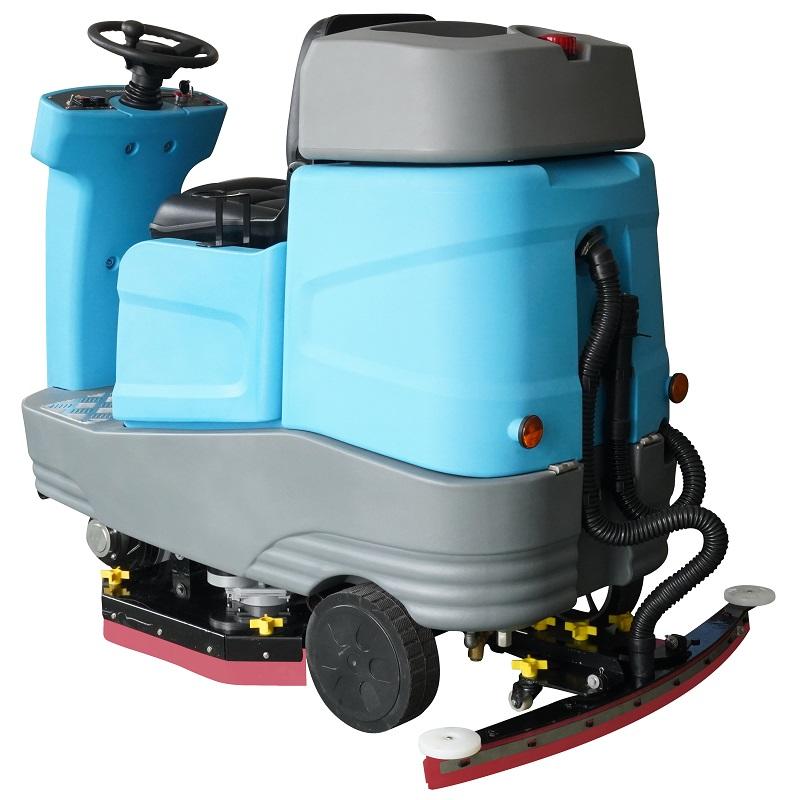 3. The small driving type washing machine can enter the washing work; After the work is completed, first turn off the brush plate button, step on the brush plate pedal, lift the brush plate, and the machine continues to drive forward. When the water suction grill sucks all the water in the ground area, turn off the water suction grill button, lift the water suction grill, and turn off the key switch. Push the machine to the sewage discharge place, discharge the sewage, clean the water tank, and finally put the floor washer in a dry and ventilated place, and the whole work is over.
Daily maintenance and care of the driving floor washer:
(1) Remove the needle holder / brush disc and wipe it with a specific detergent.
(2) Drain the sewage tank and clean water tank of the driving floor washer, and rinse them with clean water. Check the sewage tank for debris, if any, please remove it immediately.
(3) Lift the wiper assembly of the floor washer off the ground and wipe the wiper strip with a wet towel.
(4) Remove the driving floor washer, and wash the floating ball filter of the floor washer with cleaning.
(5) Charge the battery of the floor washer.
(6) Check whether the edge of the scraper is sharp. If it is damaged, please turn it around or replace it.