The hand push washing machine is an efficient and flexible cleaning equipment, with a compact structure, suitable for various occasions, and can clean the floors of various materials, such as marble, terrazzo, epoxy floors, ceramic tiles, floor paint, etc. The operation is very simple. As long as you push it easily, you can clean the ground. Using the hand-push scrubber not only saves time and effort, but also has a very significant cleaning effect. It is loved by supermarkets, shopping malls and other places. How to use the washing machine to play a greater effect?
1. Add appropriate detergent and defoamer according to the degree of ground stains.
If the ground to be cleaned is relatively clean with only some dust, then we can add a small amount of detergent or no detergent, and clean it directly with clean water to quickly complete the work of cleaning the ground.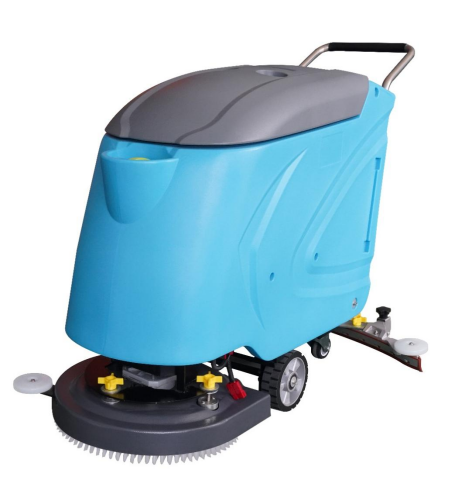 2. Choose different cleaning routes according to different ground conditions.
   For the relatively wide area of ​​the cleaning place, we should choose the back-shaped method, enter from the right direction, walk counterclockwise, and narrow down to the middle layer by layer. When the cleaning area is narrow and long, you can choose a long strip to travel back and forth, push it to the end first, then push it back, and clean the ground layer by layer. In addition, when using the hand-push scrubber to clean the ground, try to keep the cleaning surfaces one by one without leakage, and use a shorter road to complete the operation. Choosing a suitable cleaning route can save a lot of time. To make work more efficient!
3. Be proficient in understanding the various functions and operations of the automatic hand-push scrubber, and achieve reasonable maintenance and maintenance. When using a hand-push scrubber, you should have a good understanding of the whole machine, install the brush plate and squeegee correctly, learn to use various switches, and pay attention to the power, and the cleaning work can only be carried out when the power is sufficient. When the sewage tank is full, the suction motor will automatically turn off. At this time, the sewage should be discharged in time, and the clean water tank should be re-installed to continue working.
The quality of the hand-push scrubber has always been excellent and stable, and there is almost no problem. As long as there is no operation error, it can run all the time, reducing the impact of machine failure on cleaning work. After cleaning, open the sewage outlet, clean the sewage tank, squeegee and brush plate, and finally place it in a ventilated and dry place. Remember to perform maintenance frequently to keep the hand scrubber in good condition.