How often should the brushes of the ride-on floor washing machine  sweeper be replaced? The cleaning principle of the sweeper is simple. The garbage on the road is collected into the middle of the equipment through the side brush, and the garbage is thrown into the garbage bin through the principle of the middle main brush. The raised dust is adsorbed to the filter net to achieve the effect of secondary dust removal. So what are the wearing parts of this multi-functional electric sweeper? Many people do not pay attention after purchasing electric sweepers, which leads to poor cleaning effect. The possible reason is that the brushes of the sweepers are damaged. So how often does the brushes of the ride-on sweepers need to be replaced?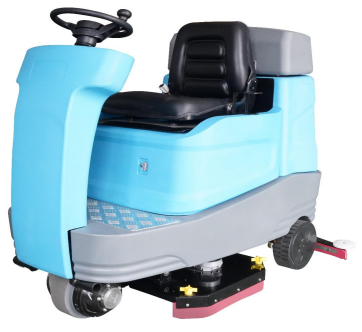 The brush of the driving sweeper is one of the most important accessories of the sweeper. Once the brush is severely worn, the cleaning effect will be significantly reduced. As a wearing part, the brush will inevitably wear out during the working process. Therefore, we should check the wear condition of the sweeper brush in time. Once the wear is serious, it must be replaced immediately.
The brush replacement time of the driving sweeper needs to be determined according to the wear condition of the brush. If the work intensity is too high, it needs to be replaced every two to three months. The brush material ratio of the sweeper is excellent, so it can be extended to 6 months or so. The replacement time is also shortened if the ground friction that the ride-on sweeper sweeps is extremely high.
Many customers only observe the length of the outer brushes when checking the wear level of the brushes. In fact, such inspections have great limitations. How often should the sweeper brushes be replaced? This needs to be determined according to the usual use time of the sweeper. In addition to the use time, the factors affecting the wear of the brush should also be determined according to the operating ground environment.
The cement floor is more abrasive than the epoxy resin floor, and the asphalt floor wears more. At present, the bristles of the brushes used in the sweeper are made of special high-temperature resistant and strong nylon filaments. The sweeper operates every day. Under normal circumstances, the brush needs to be replaced once every 1.5 years.
Because when the sweeper is working, the bristles at the bottom of the brush are extremely important. Once the bottom brush is severely worn, the brush will become extremely sparse, and the cleaning effect will naturally not be as good as before. Therefore, we need to replace the brushes of the sweeper frequently to ensure the cleaning effect.