With the development of society, the floors of many places are mostly made of ceramic tiles, terrazzo, and PVC wear-resistant floors, but it is undeniable that there are still quite a few floors. Due to the early construction age, many floors are paved with cement, and the price is relatively cheap. The wear resistance of cement floor is limited, and because the cement floor is rough and easy to get dust, how can this kind of cement floor be cleaned with a fully automatic floor washing machine? First of all, the floor washing machine can clean such places, as long as the floor is smooth and not large The area can be damaged, but it is better to use the washing machine for the cleaning of such a large area. The coup is shared as follows: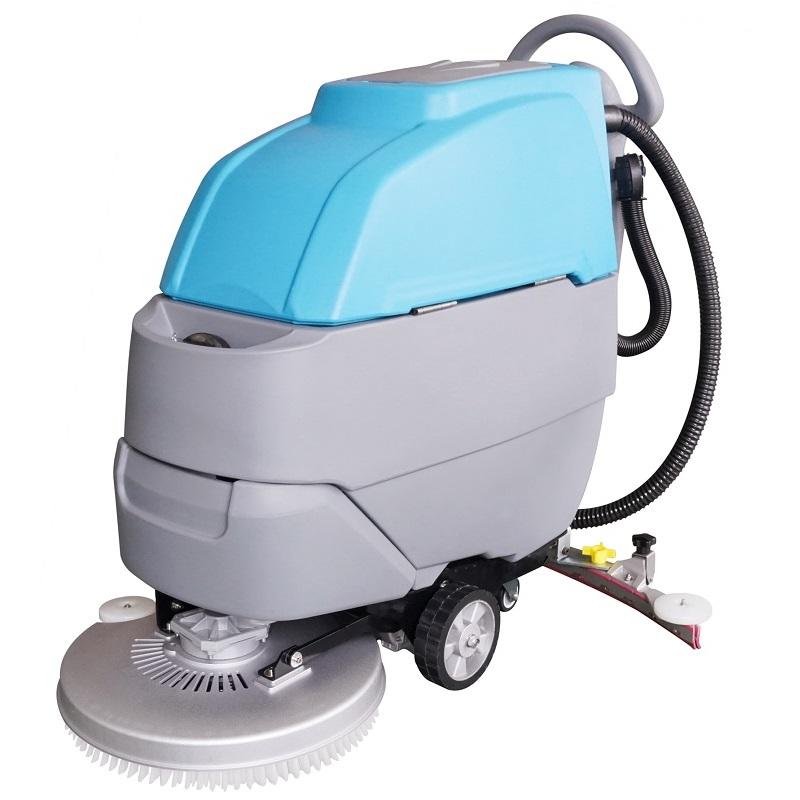 Compared with tile floors, epoxy floors, etc., the cement floor is relatively rough and has a large friction force. Therefore, some customers will encounter certain problems when using the automatic floor scrubber to clean the cement floor, so there is such a question: Is it possible that The floor washing machine is not suitable for cleaning the cement floor? This is the case, as long as it is operated properly, the floor washing machine can also be used to clean the cement floor.
The friction of the cement floor will be relatively large, and the consumption power of the wearing parts of the washing machine is very strong. The smoothness of the cement floor is not large, and the water absorption of the squeegee of the automatic washing machine is relatively difficult. Usually we clean the cement floor, our recommended automatic floor scrubber is equipped with a brush instead of a cleaning pad, and the cleaning effect is better.
In addition, we recommend that the cement-paved floor can use a curing agent to change the properties of the cement floor, making the floor more slippery, higher in hardness, and will not cause secondary dust and other phenomena. The special curing agent for cement is available in the market. You can try it. The operation is very simple. First, polish the cement floor to remove looseness and the bottom layer to ensure that there are no cracks, pulverization, peeling, etc. on the bottom floor. Brush or spray the curing agent, after the cement is hardened or the epoxy floor paint is finished, the floor washing machine can be used to clean the floor. The floor washing machine has high cleaning efficiency and good cleaning effect, which can save cleaning costs. The cured cement floor or epoxy floor can be cleaned by a washing machine very well, and it is beautiful and can bring a lot of convenience to the later cleaning of the floor.