In the past, people said that "food is the basis for food, and food is the heaven for the people." It can be seen that our ordinary people believe that eating is a very important thing in life. Since eating is so important, food safety is a big issue that cannot be ignored for the food industry. Therefore, the environmental sanitation of the food industry's production workshops and processing plants is also very important.
Nowadays, both the people and the country have very strict controls on food safety. Therefore, factories in the food industry also attach great importance to this issue. How can the food industry keep its factories clean and tidy?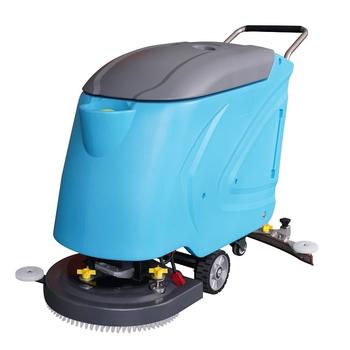 If you use traditional purely manual cleaning, sweeping, sweeping, the cleaning process not only takes a lot of time, but also requires a lot of manpower and material resources for the company, which greatly increases the cleaning cost of the company.
then what should we do? In this case, companies that want to reduce their cleaning costs, but also improve cleaning efficiency and cleaning quality, can use modern indoor cleaning tools-floor scrubbers. The scrubber is a cleaning equipment that integrates scrubbing the floor and absorbing water stains on the floor. As long as the floor cleaned by the scrubber is very clean, and the scrubber will not cause secondary dust and labor during manual sweeping. The secondary pollution caused by mopping, that is, the feature of scrubbing and drying machine makes it the main tool for modern indoor cleaning.
Therefore, if the food industry chooses a floor scrubber not only has good cleaning quality, good cleaning effect and high cleaning efficiency, but also has a particularly good price/performance ratio. The floor scrubber is not prone to problems during use.
https://www.scrubbermachine.net/